Tax Consulting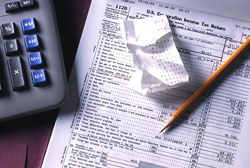 The major emphasis of the practice consists of tax planning and research, advising and preparation of tax returns for individuals, partnerships and corporations.
Years of training and education in tax matters and the awareness of new developments enables me to develop effective tax planning techniques that often result in substantial tax savings.
As a CPA I become the key player on the tax planning team. Through my association with attorneys, investment advisors, bank trust officers and insurance professionals, I can help assure that you meet your tax planning goals.
By proper financial and estate planning, I can help you preserve the financial security that you have worked so hard to achieve. It is important to plan for the disposition of your property during your lifetime by minimizing your taxes and maximizing the portion of your estate that passes to your heirs upon your death.